16-10-2013
Thoughts on Future of Magazines: An Interview with magCulture's Jeremy Leslie
Jeremy Leslie is a London-born art director with a passion for magazines and editorial design. Jeremy studied graphic design at the London College of Printing (known now as LCC), and first stepped into the publishing business with his own music fanzine back in 1977. Besides working as a consultant, he is the chief editor of magCulture, a blog that explores the latest news and trends in magazine design worldwide. He has also written a number of books on magazines: Issues, magCulture and, most recently, The Modern Magazine. At Peecho, we take pride in helping magazine publishers with print on demand, so we were thrilled to chat with Jeremy about his take on the future of the genre. Here's what he shared:In your upcoming book, The Modern Magazine, you talk about magazine publishers that are re-inventing the genre. Can you give us a teaser and tell us how some of these publishers are setting new innovation standards?
There have always been magazines directed at particular interests; movies, sports, cars, fashion, etc. These are the genres that help shops display magazines on their shelves. But many of these traditional genres have become tired and repetitive, and a new generation of independent magazines are taking these subjects and addressing them in new ways. Carl*s Cars has a new take on car culture, Little White Lies on movies, The Ride Journal on cycling. They are rediscovering a shared love for the subject matter, very different from the usual lifestyle/commercially-orientated magazines.
Do you have any favorites right now?
I ALWAYS love The New Yorker, it remains the gold standard, and Bloomberg Businessweek continues to impress with its boldness. But the current star is the Gentlewoman, a publication that is reinventing the women's magazine. It looks fantastic, is brave in its content choices and takes women seriously while allowing them to be glamorous and attractive.
What will the magazine of the future look like? Will there be room for print?
Magazines have always changed and adapted and they'll continue to do so. We'll see less of them in the future but those that survive will be better in terms of production, design and content. They'll have to make the most of print and all the positives of their off-line qualities.
What advice would you give to someone that's looking to start a magazine?
First thing I say when asked that is 'don't'. Depending on their reaction we might then discuss further. Making a magazine is very demanding, you have to be very focused and prepared for tough knocks. If you're going to do it you have to REALLY do it, and not just make something 'quite nice'. Aim high.
What do you think the future will bring for the magazine genre? Share your thoughts with us in the comments and follow magCulture on Twitter for insights and updates from their Modern Magazine conference in London this week.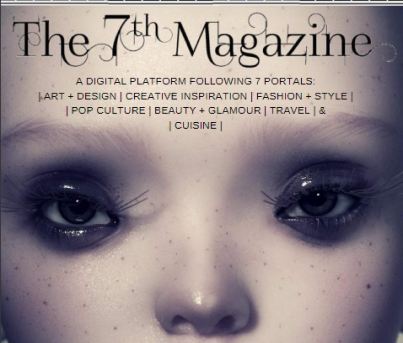 The 7th Magazine, 7 portals to inspire
Read blog