06-08-2013
The publisher as entrepreneur: an interview with Jeff SKI Kinsey
Jeff at TechStars Publishers face several difficulties these days when it comes to marketing, content delivery and distribution. Print is becoming a luxury good, and content owners need to compete for consumer eyeballs on new platforms and devices. Companies also face similar issues as they strive to create memorable content experiences for their customers. This week, we got a chance to talk about publishing and innovation with Jeff "SKI" Kinsey, a publisher and entrepreneur that is helping other businesses optimize their content for the digital age. Jeff recently started working with Peecho to provide print on demand for one of his customers. We were eager to hear his take on the future of print and gather some tips for aspiring publishers.Jeff, can you tell us about your company and your experience in the industry?
I computerized a couple of printing companies in the early days of PCs and spreadsheets, worked for a daily newspaper and love to read. Especially magazines. In 1998, I went to work for a publishing firm that did events to drive readership, as the IT guy that kept all the tech up and running.
On July 4th, 2012 I decided to start my own publishing company and attended the TechStars Patriot Boot Camp in Washington, DC later that month to refine the idea. Within 90 days our first magazine went live: Purple Curve — The Open Leadership Guide. A few weeks after that, we launched a second title called Life's Journey.
My company, GoLive Magazine , is the back office automation company for would-be publishers that have content but no expertise in making it all happen. We help them launch their magazines in PDF format for desktop or notebook readers, and also publish their content on Apple's iTunes store, Google Play, Nook HD and Kindle Fire.
What do you think publishers can learn from startups, based on your experience at TechStars?
For me, it is about innovation. To take one of the oldest industries and inject innovation and a new vantage point is the exciting part. The publishing industry needs to reinvent itself, and there is no better way than taking the approach of an accelerator like TechStars. Every business could experience breakthroughs if it were to look at itself through the eyes of a mentor network like the one TechStars brings to the table.
What does it take to make a publication a success?
That is a great question. The short answer is that it takes a lot of work. There are a lot of moving parts in any business, the mastery of the execution and interaction of those moving parts takes a lot of focus, energy, and patience. Recently, I have been reminding myself and others of Thomas Edison and his remark that he found over 10,000 ways not to make a lightbulb. Success is a journey. As long as you don't give up and you test multiple times to learn what your readers like, your publication can and will be successful.
Do you think there is still room for print in the industry?
I think so, I love the printed word! I've been meaning to experiment with print on demand since POD for magazines first appeared on the scene. But funds were always tight and we had limited options. Then, people started asking if we could offer one of our titles in print. We had over 15 issues of great content in digital form and with each passing month, there seemed to be more demand for a physical product. Finding an affordable alternative wasn't easy. It took a lot of research. Luckily, a colleague in Europe suggested that I give Peecho a look, and here we are!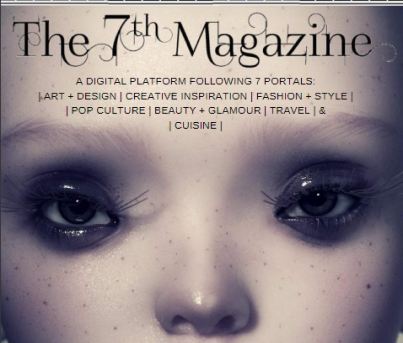 The 7th Magazine, 7 portals to inspire
Read blog