12-03-2013
Swedish Illustrator Rebecca Landmér talks print on demand for artists
Image courtesy of Rebecca LandmérFrank Zappa once said that "art is making something out of nothing, and selling it." Now, we all know that's not always how it works. There are plenty of amazing artists who never sold anything in their lifetime and many more that are simply undiscovered or not producing stuff to make a buck. Luckily though, it's become easier than ever for artists to share their art with the world and connect with the people it speaks to. Nowadays, artists also have multiple channels to sell their artwork without having to depend on patrons and galleries, like they used to in the distant past. Print on demand is one popular option. In this post, we'll be talking to Rebecca Landmér, a Swedish artist that's using Peecho to offer physical copies of her book.Rebecca, when did you decide to become an artist?
I took a couple of U-turns while getting to where I am today. At a young age I wanted to become a picture book illustrator, but instead I found myself working as a sculptor in New York City in my twenties. I did odd-jobs, graphic design and web production on a freelance basis to support myself. Eventually, the latter developed into a fascination with information management, which lead me to become a librarian and then a teacher, and so on…Finally, about a year ago, I got back to where I wanted to be in the first place: as an illustrator (of picture books, among other things) and graphic designer.
You're currently using Peecho to print a beautiful children's book, what can you tell us about it?
My Peecho product is a picture book for kids, 2-6 years of age, who are dealing with issues of separation and divorce. In Nordic countries, separation often results in 50/50 shared custody of the children, giving them two primary homes. That of course also means that the children are always missing and longing for one of their parents. My book focuses on that sense of longing, what it is, how it feels, and that it's OK.
I am very happy that the book has been well received by reviewers, and that it can now be found in many public libraries.
Rebecca's bookWhat are the advantages of print on demand for artists like yourself?
I think print on demand brings fantastic opportunities for artists everywhere! POD is the democratic approach to publishing – it makes it possible to bring your story to people, without excessive investments and requirements for high profits. Do it. What could possibly go wrong?
Swing by Rebecca's website to learn more about her work or click here to purchase a copy of her book.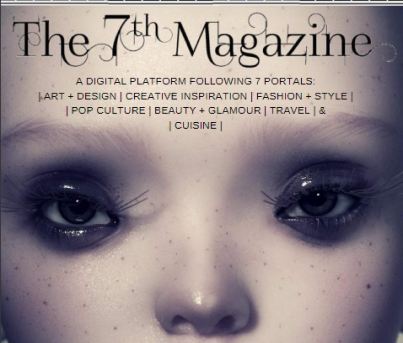 The 7th Magazine, 7 portals to inspire
Read blog