11-02-2014
Publishing in 2014: Industry expert Thea Selby shares her view on the trends that will shape the media landscape this year
2013 was an interesting year for publishers. Mobile referral traffic reached new heights, dozens of media startups launched to refashion the way people consume content, and Jeff Bezos' acquisition of the Washington Post set the tone for more exciting developments this year. How will the industry evolve in 2014 and what kinds of challenges will publishers need to face in their quest for success? We spoke with marketing executive and publishing specialist Thea Selby to explore these questions. Thea is currently a Principal at Next Steps Marketing, a San Francisco firm that solves audience-building challenges in creative ways. She is also a co-founder and board member of Exceptional Women in Publishing—an American organization dedicated to supporting women in and through the power of online and print media—and is the former CEO and Publisher of Light Green Media, a digital publishing company. Her columns on Publishing Executive regularly cover market insights and best practices.Thea, what trends do you think will define the digital publishing landscape this year?
The main trend I see is more publishers moving to apps, and recognizing that you don't only have to make an app for your magazine, but you have to figure out a way to get that app noticed. App marketing is probably the biggest challenge for many publishers. They think a lot about their content, how to make it attractive to the consumer. But much less about how to get it sold, how to attract customers. Sometimes this is because they don't have the marketing staff, sometimes it's just a matter of what publishers are passionate about. But, it's absolutely critical, as we head towards 10,000 magazines on the eNewsstands, to think about marketing your app.
Aside from marketing, what are biggest challenges publishers will continue to face in 2014?
One challenge they face is the cost of actually creating an app. This can be a significant barrier to entry for publishers. Also, the market is fragmented. You may make an app that works for Apple, but then you have to create an entirely different app with different challenges for an Android device, and again for a smartphone. This is different than print. Once you make your product in print, it's done, and can be distributed by various channels easily. It doesn't break apart, or require updates, or fail when the eNewsstand goes down, or get glitchy. These are all challenges in the digital world we don't face as print publishers.
And speaking of print, what do you think the future holds for print media?
I am a firm believer in the future of print. Whether it will exist more as a luxury or niche good remains to be seen. Newsweek is an interesting bellwether for that. They shuttered their print magazine about a year ago and recently announced they would be going back to print with more of a subscription-based than an advertising-based model. Other brands that started as digital magazines have moved to print. Allrecipes.com started as a digital product, and was so successful (and purchased by print magazine behemoth Meredith), that they started a print version of it. If we get a few more of these, we might even see a trend.
What advice would you give to publishers that are looking to drive revenue from both digital and print?
It would depend on where the publisher is in her publishing. If she already had a print piece, I would urge her to add a digital edition. If she was starting from scratch, then several publishers have started with a digital edition and then, once that became a success, moved to print. She should look closely at her market and what they want. My advice would be if you are interested in a subscription and single copy revenue model (not a 100% advertising revenue model), then it's leaving money on the table not to get revenue from both.
What are your publishing plans for 2014? Tell us in the comments and make sure to follow Thea on Twitter for more tips.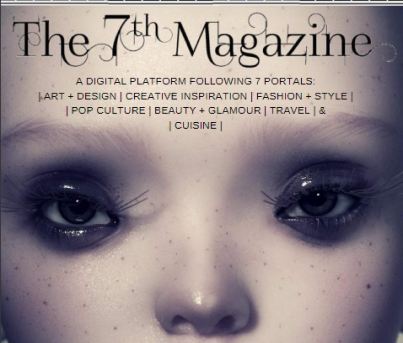 The 7th Magazine, 7 portals to inspire
Read blog