27-02-2013
Penguins of the World Unite: Peecho Joins Forces with Bella Papadopoulou for Environmental Awareness
Bella prepping her penguin gearIt's always a joy to meet people that are committed to make the world a better place. Last month we met such a person: Bella Papadopoulou. Bella is an environmental journalist on a mission. Today, she will travel to Antarctica as one of the 30 selected members of Robert Swan's International Antarctic Expedition 2013 and the 2041 Antarctic Youth Ambassador Programme. Her goal is to raise awareness about Antarctica's environmental situation and safeguard the future of the continent and its wildlife. But travelling to Antarctica isn't cheap. That's why we decided to collaborate with Dutch storytelling startup Driply and other sponsors to get Bella on her way. She will use our print button to offer some awesome images of her journey as posters and other print products. The proceeds will assist her in funding her expedition. In this post, she'll be sharing her story.Bella, what is your role as a youth ambassador and what will you be doing in Antarctica?
I will be traveling to Antarctica to see its pure and pristine nature with my own eyes and feel how vulnerable our planet is. After experiencing this, I want to transmit this feeling to the rest of the world through my writing, hoping to motivate people around the world to work together towards a healthier earth.
Today, seeing how the Arctic is almost completely melted, it is more important than ever to preserve Antarctica. Human activities in Antarctica are governed by an international agreement called the Antarctic Treaty Protocol. This unique international agreement is ensuring that Antarctica is used for peaceful purposes and that the environment is protected. It also prohibits drilling and oil exploration. However, the agreement will be expire in 2041 and it is important that we keep it in place. As an Antarctic Ambassador, it is my responsibility to inform people about this and prepare them for the voting.
What motivates you personally to participate in this project?
I have loved nature since I was in elementary school and I decided to become an environmental journalist to give the environment the voice that it deserves. My interest in Antarctica began when I read that seals in Antarctica have organic poison in their milk because of industrial waste from the northern hemisphere. This made an extreme impact on me and I felt it was my responsibility to do what I can to stop this.
What are you looking forward to and what will challenge you in this trip?
The biggest challenge will be – aside from crossing the 14 meter high waves on the way to Antarctica – to get people engaged and make them care. But, of course, there's so much to look forward to. Just the feeling of being in a remote region of the planet will be overwhelming. I'm also looking forward to seeing the penguins, of course, because penguins rock!
Help Bella protect Antarctica! Visit her Driply site to learn more or make a donation.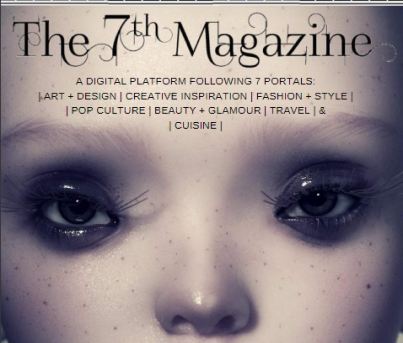 The 7th Magazine, 7 portals to inspire
Read blog