03-07-2012
Peecho for Retailers: Le Petit Tom prints beautiful catalogues on demand
In this day and age, businesses have to create amazing content tocapture people's attention and garner word of mouth. Brandsare becoming publishers, leveraging a diversity of new media tomarket their product in creative ways. Such is the case with LePetit Tom, an exclusive clothing store that thrives on introducingmagical styles into the European baby fashion branch.
Le Petit Tom is working with Peechoto print lookbooks of their private label collection DOLLY.We spoke with the store's founder and lead designer, Anne-Marie vanDijk, to learn more about how she's using digital publishing andprint-on-demand to tell her brand's story.How did you hear about Peecho?
I saw the Peecho print button appear above our Issuucatalogues. I've been using Issuu for about 2 years now.
And how has a platform like Issuu helped you connect with your clients?
It's a great and especially stylish way to showcase our collections tocustomers all over the world. I can't think of a better way to do mymarketing and now Peecho's printingservice for Issuu is just the best. The possibility to print justone piece instead of a minimum of 3,000 makes Peecho perfect. I canalter the catalogue, update on Issuu and send out a print versionimmediately to a client.
Speaking of the catalogue, what steps do you take to create your digitalpublications?
I first design the products under my own label, Dolly by Le Petit Tom ®.When the actual garments and shoes are finished and the collectioncreated, I photograph products myself and prepare the document with textand graphics. I achieve the best results by taking photos on location.It's very time consuming to create settings for photo shoots but I loveto do it. When the lookbook is finished, I upload it to Issuu. We gettons of positive responses to our brand and products. People alwayscomment on the beautiful pictures and presentation so the marketing ispaying off very well.
Describe your experience using Peecho:
It's been really easy. The quality is very good and in case there is amiss-print, problems are solved quickly.
That's good to hear! Would you recommend Peecho to other webshops?
Yes, I think it's the best thing for people with catalogues. If you goto any other printing company you have to send in every page separatelyand make sure the numbers and specs are correct. Peecho takes care ofmost of that work and hassle. I mean, as a company, you put in a lot ofeffort just making the catalogue and you just want to print it. WithPeecho that's possible. You don't have to do anything, just fill in youraddress and voilà!
Why do you think it's important to offer a printed lookbook or productcatalogue?
Some customers prefer a printed catalogue. It's very professional for acompany to be able to send a print version to a client, even if they'reon the other side of the world. Printing on demand is also handy becauseyou avoid having a warehouse full of outdated prints (which is a wasteof money, paper and trees).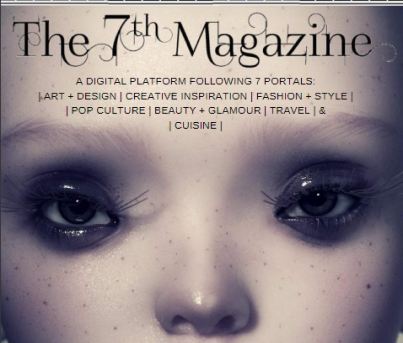 The 7th Magazine, 7 portals to inspire
Read blog