19-06-2012
Peecho for Creatives: Designer Michael Vinci on his book Pictograms and Signs
Ever wondered where that familiar home icon on your browser comes fromor those quirky-looking airport signs? In his book Pictogramsand Signs, Michael Vinci takes you on a minimalist journey throughthe meaning of symbols and images. The book was initially distributed asa digital publication on Issuu.Following our collaboration with the publishing platform, Michael usedour printing service to translate the publication into a physicalproduct. We were curious to hear more so we had a little chat with himand got some pretty neat feedback in the process.
Can you tell us a bit more about your book?
Pictograms & Signs is probably my favourite project I have worked on todate. Over the past few years my passion for illustration and simplisticdesigns has grown a lot and when I was given a brief at Solenttitled 'Visual Research,' I thought that this was the perfect time toexpand my knowledge on the visual language. The book has been puttogether to give people insight into the different images around us,from obeying the law via road signs, to ancient scriptures and even onthe internet.
I noticed that you make great use of the Issuu widget on your blogto showcase your projects. Besides using their platform, how has thishelped you spread the word about your work?
I think Issuu's digital book widget is the best way to show your workonline, especially books. It allows people to view your publication withease. The widget has been designed really well so it works like a charm.Nice one!
And what did you think about Peechoprinting?
I am very happy with the service. As a designer, I understand that therecan be a lot of misunderstanding between printers and their clients. Butthe orders I have placed have shown me that the printers at Peecho musthave a lot of experience and understanding. My designs have come outreally well!
The quality of the book was also far higher than expected. This wasbecause I considered the price I paid to be cheap. Therefore, I expectedto have a standard quality print. But when I received the book I waspleasantly surprised to see the high quality of production. So A+++ foroffering a cheap but high quality service!
Wow, thanks so much for the kudos! Would you recommend Peecho toother designers?
Yes, in fact I have. I live with two other Graphic Designers and sincereceiving my book they have signed up. My tutor at Solent was evenimpressed with the service!
What is the added value of a printed design portfolio or publication?
All designs look different on paper no matter what monitor you use, anda high quality printer makes everything that much better. Call me oldfashioned but as awesome as it is, with the world becoming so digitallyadvanced, you can't beat having a hard copy.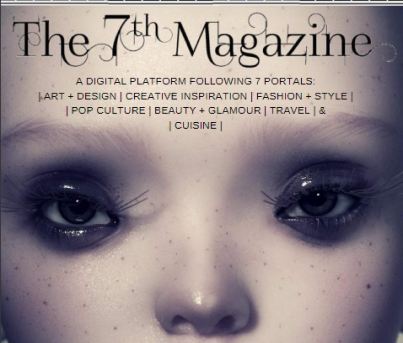 The 7th Magazine, 7 portals to inspire
Read blog