30-07-2013
Intriguing, clever and gripping: Paul Murray from The Book Design Blog Talks About Book Covers
Paul Murray – founder and Editor of The Book Design BlogLast week we interviewed Jaap Biemans from Coverjunkie to get some expert tips for magazine cover design. This week, we're delving into book covers with Paul Murray, founder and editor of The Book Design Blog. Paul is a Manchester-based graphic designer with a passion for editorial design. In his blog, Paul showcases gorgeously designed books, zines and other publications from around the world. If you're a fan of physical books and other kinds of printed goodies, his blog is one you don't want to miss.Paul, what defines the ideal book cover?
I think at the most basic level, a great book cover should intrigue a potential reader enough to pick the book off the shelf. If you catch someone's attention enough to stop and give the book some consideration then you've done your job correctly.
Also, I believe book cover should never depict key elements from a story, especially not the main character if we're talking about a work of fiction! Fiction is about imagination, and everyone imagines characters, locations and events differently. If you depict your own image of an element on the cover, then you're interfering with the reader's own imagination and thus their enjoyment of the story.
Hint, don't show.
What about the rest of the book, what tips do you have for people looking to design their own book themselves?
If you're looking to self-publish a book or novel but you're not a designer, honestly I wouldn't recommend trying to tackle the design of the book yourself. Instead, I'd find a designer to help you with it. It may seem easy enough to do it yourself, but I often get emails from frustrated self-publishers who have no idea how to get their book to print. Hiring a decent designer costs less than you might think and if they know what they're doing you shouldn't have any trouble. Just be sure to check the quality of their work beforehand, it can vary greatly.
How do you select the content you feature in your blog?
I'm always looking for new and exciting stuff. I'm a traditionalist designer at heart, so anything with good typography and a solid grid holding everything together will catch my eye. Different people find different things inspiring though, so I don't like to dictate the content too much. Basically if it's book-like and printed, I'll feature it, as my aim has always been to showcase other people's great work.
At the moment, I'm on the lookout for self-published comics and graphic novels, so anyone with a fantastic graphic novel is welcome to submit it!
You're big print lover, where do you think print media is heading? Are printed books becoming luxury goods?
In some ways I think they already are a luxury good. I personally buy books and zines because I want the experience of reading them and owning them. Sure, I could read a digital version of the content and still get the same information, but I wouldn't get the same experience.
Honestly, I think books will always be around in some form or another. I just can't imagine a world without them. They've stood the test of time so far and I like to think they'll still be around for another few centuries, even if they're all eventually self-published. After all, what would Hollywood do for inspiration if there were no books?
Browse our favorite picks from The Book Design Blog's archive below and make sure to keep in touch with Paul on Facebook and Twitter!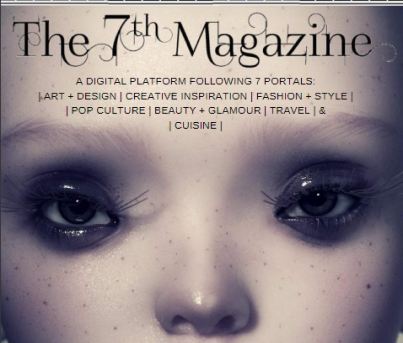 The 7th Magazine, 7 portals to inspire
Read blog