12-10-2015
How to use the free print link to sell your publications
Who says you need technical knowledge about webshops to sell your digital publications in print? You don't! The simplest way to allow others to buy your digital files (books, photographs, magazines) as print products is with the Simple Print Link. In this blog, you can read where you can find the print link and how you can use it to sell your publications.
Get  the free Print Link
To make profit from your digital publication by using the print link, this is where you can find it:1. Log in to your Peecho account and go to your personal dashboard.2. Click on ''Publications'' and then on he publication you would like to sell via the print link.
3. Then click on "Publish"
4. Then scroll down and copy the print link. Paste it into your social media posts, emails and website!Use the print linkThere are several ways to share the print link. I will explain four ways to do this below:1. Share the print link on Facebook.
When you want your post to be seen by as many people as possible, you can boost your post by using Facebook Ads. Something else you can do to draw people's attention is to make your post more attractive by emphasizing that what you are offering is exclusive and to use pictures that enhance your message. Post the link on several moments on several days and experiment with the text. 2. Share the print link on Twitter
On Twitter, you can only use 140 characters per tweet so the message should be brief and to the point. To make sure more people will see your tweet, you can boost your tweet via Twitter ads. On Twitter, it's wise to tweet the same message in different phrases several times. Use the hashtags to define the subject your tweet is about. If you are active on other social media platforms than Facebook and Twitter, of course you can share the print link on those platforms too.3. Share the print link via email.When you have a list of people that might be interested in your product or people that bought your product before, you can send them an email to let them know you launched a new product. The subject line of the email is very important: it makes people open or not open the email. In the text of the email it is important to get personal and include a clear call to action. In this case the call to action will be to click on the link and buy your publication in print. 4. Embed the print link in the text of your website.With the print URL, we also provide you the HTML code to embed the link in the text on your website. This is what you write in the HTML code of your website:Our new issue is out! Click < title=''Peecho'' href=''http://www.peecho.com/print/en/151881''>here</a> to get it in print!This is what you see on your website:Our new issue is out! Click here to get it in print!Do you need help with the print link? Email or call (+31638445117) us and we will help you!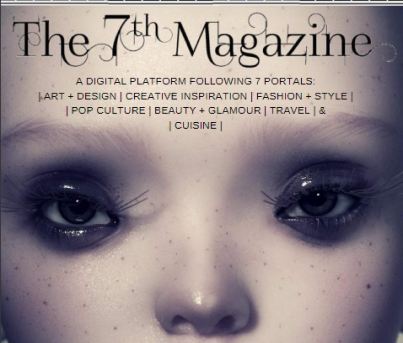 The 7th Magazine, 7 portals to inspire
Read blog