17-09-2015
How to crowdfund your next self-publishing project
Image source: pixabay.comIf you're in the self-pub space, you've probably heard about crowdfunding. Both emerging writers and famous authors like Eric Ries (The Lean Startup) have proven that crowdfunding can be a viable and rewarding alternative to fund a publishing project. But what does it take to run a successful crowdfunding campaign? This post will cover some tips and tricks as well as general information about the crowdfunding landscape.
What is crowdfunding?
According to Techopedia, "crowdfunding is a method of raising capital in small amounts from a large group of people using the Internet and social media." It's a new way of fundraising that's gaining popularity among artists and entrepreneurs. Crowdfunding reduces risk for the project owner/creator and is a great way to gauge your audience's interest in your work. Popular crowdfunding platforms include:
Things to consider before you get started…
Before you get started, I highly recommend that you talk to other authors or entrepreneurs who have run a campaign before. Ask them:
What they think they did right

How they could improve

How much time they put into it

How they promoted their campaign

Who their donors were.
This will help you get a better idea of the scope of such a project and how much time and budget you need to invest. In short, it will help you answer the question: "is this for me?" You also need to make sure you have a good online presence. It's advisable to work on your website, blog and social media profiles before you start a crowdfunding campaign.  
Set a realistic and transparent goal
Another important thing to consider is that you'll need to provide information to your backers about how you will use the funds they provide. Transparency increases trust and therefore your chances of getting funded. Set a realistic goal based on the amount of capital you actually need. You might even want to include a cost breakdown or business plan about how much you intend to spend on things like editing, design or even translations.
Campaign must haves
Successful crowdfunding projects tend to have a few things in common:
A mission: start with the why. Tell people why they should care about your project, what problem(s) you're tackling and what your goal is

A clear project description: what is your publishing project about? What is your projected timeline to completion?

A video: record a short video to tell people about yourself and what the project means to you

Social proof: add testimonials or reviews from other readers

Perks: offer good perks for your readers. For instance, think of offering signed copies, a special edition cover for backers that pledge a certain amount, an invite to your book presentation event, an extra book copy for a friend…you get the picture.

A clear FAQ: Try to answer any questions you think your backers may have about you and your project
Marketing your campaign
After you've chosen a crowdfunding site, you should start working on a marketing plan for your campaign. Get a small team together to help you, it's tough to do it all alone. You'll want to be ready to market as soon as the campaign goes live – the first 48 hours are crucial. Prepare the following in advance:
An email list: gather all your contacts and use a system like Mailchimp to send them an email about your campaign. Make the email personal. Include your bio and picture, your mission statement, your goal amount and use your own email as the reply-to email address. You can also include a breakdown of the perks you're offering to spark more interest.

Use social media – big time: share your campaign on all social networks. Try to find niche sites where other authors and readers hang out and spread the link there as well. Ask your friends and fans to spread the word online too.

Update your website – make sure your website contains a call to action for visitors to check out your campaign page.

Promote your campaign offline: get the word out at conferences, community events, local book clubs and libraries. Use creative print material like postcards and flyers to draw people's attention.
Check out this article on The Guardian for a great list of crowdfunded literary projects and feel free to contribute with your own tips and tricks in the comments below!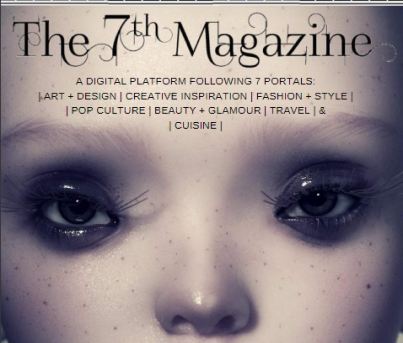 The 7th Magazine, 7 portals to inspire
Read blog