30-12-2013
Going from blog to book with Peecho: a chat with blogger and editor Annemieke Ebus-Vermeer
People keep blogs for many reasons: to 'pen down' their thoughts on a specific topic, share insights and tips with others in their industry, or update their family on their latest trips and life stories. Most blog posts, however, are fairly transient in nature. They tend to get lost in the clutter of everyday digital content and are most likely read only once by any given person. Many bloggers are therefore keen on preserving some of their writings in print. Today, we had a chance to talk with Annemieke Ebus-Vermeer, an avid blogger and freelance editor, who is using Peecho to go from blog to book.Annemieke, when and why did you decide to start a blog?
I love to write. I'm trying my hand at writing a children's book at the moment and I love writing blogs about family life too. My husband and I started our blog when our eldest daughter was born, a little over five years ago. She was ill at birth and had to stay in hospital for over two weeks. We didn't want to spend our days phoning everyone with the latest update, so we decided to start a blog. That way, everyone who was interested could stay up to date.
Our daughter recovered quickly, but we kept posting news and pictures of her on the blog. Some of our family members live quite far away (as far as Chile), so we're not able to see them as frequently as we would like. A blog with stories and pictures of the girls (we now have two daughters) is a good way to keep them involved.
Your blog content is definitely close to your heart. Is that why you also decided to keep a printed version?
Yes, our blog has become a treasured kind of diary over the years. I would hate to lose all those great stories about the girls. If something happens to the webhost or to our blog, all those hundreds of postings would be gone. So I jumped at the opportunity to get our blog printed. That way, it's not only a great blog, but also a wonderful book that you can just leaf through at any time. Our eldest daughter loves hearing stories about when she was little, like the way she pronounced words when she was two. If you don't write stuff like that down, you're bound to forget it.
We've got four books now, one for every year that we've kept the blog. I'm working on book number five right now. We decided to get one copy per book, but I think it's great that we're able to order an extra copy any time we want thanks to print on demand.
Did you try other print on demand software before working with Peecho?
I did. I've got some experience with printing photo albums using internet software, but I wasn't always happy with the result. What I like about Peecho is that it's fast – once you've got a PDF, you can order your book within a couple of minutes. I also like the fact that you don't have to squeeze your product into a template. If you've got 166 pages, you'll get a book of 166 pages. Very easy!
I'm really happy about the quality of the printed books. I opted for the hardcover version, which is pretty sturdy. The paper is also glossy, which gives the pictures a nice shine. We're thinking about getting extra copies printed for my parents-in-law's 45th anniversary, which is coming up soon. They will make a great present!
Looking for resources to take your blog's content to print? Find out how to make a photo book using our Simple Print Service or leave us a note in the comments.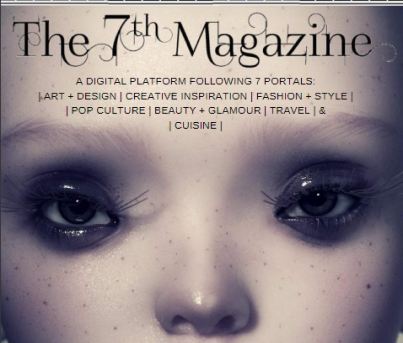 The 7th Magazine, 7 portals to inspire
Read blog