20-11-2012
Peecho publishers share tips: Guru Magazine lends advice on growing your readership and nailing down your distribution strategy
The Guru Mag Founding Team (photo credit: Guru Magazine)Guru Magazine is a crowdsourced digital publication that offers compelling scientific content "without the geek factor." Being the world's first science lifestyle magazine, it covers a wide range of topics – from news in media and technology to psychology, health and food. In this post, Guru mag's editor and co-founder, Stuart Farrimond, will be sharing his take on content distribution, growing your readership and staying true to your mission.Tell us a bit about Guru Magazine, what inspired you to start it?
Guru Magazine was started to fill a niche. Or, as we saw it, a gaping chasm. To our frustration, we were unable to find a science-themed magazine that was easy to read and not patronizing. Scientific issues have an impact on all of our lives and an increasing number of people are getting interested in science. Unfortunately, though, the word 'science' has a bad stigma: it is associated with men, lab coats and academia – something that existing publications do little to challenge.
We wanted to create a fun, light-hearted magazine that contained articles that you and I wouldwant to read – simply because they are relevant to life. Guru Magazine is designed for people who have little or no knowledge of science. We try to generate content that focuses on human stories, experiences, and opinion. We believe it is something that anyone can enjoy reading – and even learn a little from.
Like Wikipedia, Guru Magazine is also entirely crowdsourced. All article-writing, editing and design is done by people who believe in the Guru philosophy and who give their time and energy voluntarily to produce something very professional – while also gaining experience and exposure. We are proud that several of our writers have gone on to get careers as full-time journalists and science communicators. But we're equally proud to have given people opportunities that they might have struggled to get with 'mainstream' publications. Before Guru, one of our regular contributors had their writing efforts thwarted because of dyslexia. Although his grammar and spelling left a lot to be desired, his writing style was brilliant. We are proud to give people with ability an opportunity, when others won't. There are no qualifications for getting involved in Guru – just passion and commitment.
You've decided to make your publication free. Why is that and how does it relate to your mission?
The underpinning philosophy of Guru Magazine is accessibility. Facts about science are too often in 'ivory towers': steeped in inaccessible language or in expensive magazines and journals. We wanted to break that mould – whilst still delivering a professional end product that would be worth paying for.
Furthermore, we don't want money to be a barrier to people enjoying our content and gettingengaged in the issues we discuss. That's why it's an important part of the Guru mission to be free to view.
You recently got funding from the Wellcome Trust, can you tell us how this fits in with your growth plans?
The Wellcome Trust funding gives us a big boost. We are utterly delighted that they want to support us! Being recognised by an internationally-respected organisation shows that we are producing something that is authoritative and worthwhile. The funding money will be used primarily to develop a cross-platform app that will enable readers to download and read each issue automatically from their smartphone or tablet.
Unlike nearly all newsstand publications, ours will be completely free. It will allow full access to previous issues and will make interacting with Guru Magazine – and with fellow Guru readers – easier. The app will be available from Apple's newsstand and Google play by the end of November – in time for Issue 9 (released 3rd December!)
The grant money will also be used to further Guru's activities (e.g. our weekly 'Ask A Guru' initiative) and to help grow our readership.
Celebrating Guru Mag's 1st birthday! (photo credit: Guru Magazine)And speaking of growing your readership, what role has social media played in your marketing efforts?
Increasing our audience is always a challenge – there is so much competing for people's attention.Yet, only by gaining – and keeping – readers can we attract donations and advertising to help fund what we do. We didn't have any money when we started, so we needed to use every free promotional avenue available. Social media is increasingly the medium people use to find out about news, events – and just to keep in touch. Most journalists need twitter to keep ahead of the game. Social media allows instant interaction – and people like that! It has proved essential in building our online community and readership.
What advice would you give to starting indie publishers?
Our advice would be to get a team around you with different skills and start small. We launched with a writer, graphic designer and PR consultant.
In addition, we think its important to give your readers the flexibility to consume the content in a way that works for them. That's why we distribute in a variety of formats, primarily full-colour pdfs, which are specifically designed with tablets and smartphones in mind. Kindle and e-Reader versions are also available. At present, all versions can be found on our website and Issuu – although they will soon be available via Apple Newsstand and Google Play.
And as for print, the set-up costs for a print magazine are high. In fact, many existing publishers are finding it difficult to maintain paper subscriptions. We think it's definitely smarter to start off with digital before looking to print. However, there will always be those who prefer a paper version and it is great that we can now offer a print-on-demand service via Peecho.
Want to hear more from Stuart and the Guru mag team? Follow them on Twitter or get their updates on Facebook.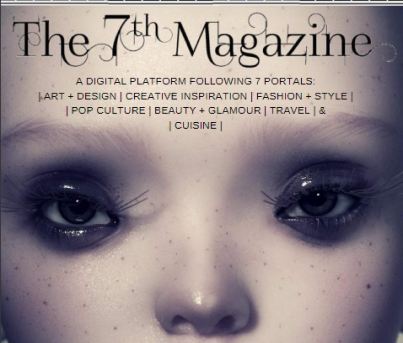 The 7th Magazine, 7 portals to inspire
Read blog