01-10-2014
Designing an inspiring product catalog
Catalogues are among the most common products printed by our users. We've seen many different kinds – from clothing line catalogues to lighting and furniture. This week, a catalogue by Gabriela Noelle Gonzalez from B. Pila Design Studio caught our eye. Gabriela is an entrepreneur with a graphic design background. After studying Design and Management at the Parsons School of Design in New York, she set out to create her own streetwear brand and began selling her own design caps, screenprint tote bags and more.  While she continued her work in the Big Apple, her mother, an interior designer with over 30 years of experience, decided to launch her own furniture line. Thrilled by the idea, Gabriela decided to return to Miami, her hometown, and hop on board. The catalogue below showcases their very first collection, titled Hide & Seek.
Gabriela, can you tell us more about the catalog and the collection it showcases?
The catalog is a quick way to show our audience all of the unique things about our furniture line in a light, casual, and clear way. We wanted to communicate the distinct finishes available, the colored hides that we offer and the customizable sizes we can make, without overwhelming our clients. The collection is inspired by our mutual love of vintage acrylic and its incredible ability to transform when combined with exotic and unexpected materials. For as long as I can remember, my mother and I have been exploring and scavenging thrift stores and vintage shops in search for what we believed to be unique, character-rich treasures, and we became most excited when we came across Lucite furniture. The idea was to bring a similar, stimulating, one-of-kind look and feeling to a space, inspired by vintage looks, yet executed in way that transcends any particular style or era.  Designing the catalog for this collection has been one of my favorite parts of the business. It offers me a different perspective on the pieces and I find that pretty insightful.
What is the importance of a good catalog?
I think it's important to communicate your vision to your audience and the catalog helps to do that. It can also show your competitive advantage as a designer – how your product is distinct from others, how it is special and why your target customer should have it.
What would you say are best practices in terms of layout and overall catalog design?
Although I have been taught to follow layouts and grids, use rulers and guides, I find that I do my best work when I simply trust my eye and my free hand. I never want my catalogs to look systematic or contrived and I definitely want to urge the readers as well as the users of the products I am featuring to embrace imperfection and a natural look. Of course, it is important to balance that "easiness" with sophistication and taste. I think a simple tip to achieve that is to have more negative space than positive space in a layout.   
What information do you consider a must-have in a catalog?
A must-have in any catalog is amazing photography. I'm sure someone famous and powerful once said this, and I also vividly remember one of my college professors quoting this:  "if your work speaks for itself, don't interrupt." This quote has always resonated with me and that is how I see catalog design. Great products, photographed well, speak for themselves and should not need much to back them up.  
Another must-have, in my opinion, is a touch of fun. I think everything should have a bit of lightness, playfulness or a sense of humor to it.
How do you promote your catalog online and offline?
We send the catalog link to customers that are interested in seeing our collection and also provide a physical catalog as a handy reference for a selection of customers that request it. It's a tool that shows a bit more detail than our website and walks you through the options associated with each piece. I have also included original drawings from the design process in the catalog. My intention behind that was to show how each piece was designed by a real person. Our products are not mass produced in a factory overseas, but handcrafted locally and made to order according to your needs.
Why did you decide to offer a printed version as well?
I love tactile and physical elements, especially now that we send and receive everything on a 2D screen. Things are dispensable with a click of a button. I think a printed catalog can leave a more lasting impression. Visit www.bpiladesign.com to learn more about the collection and follow Gabriela on Twitter for inspiration.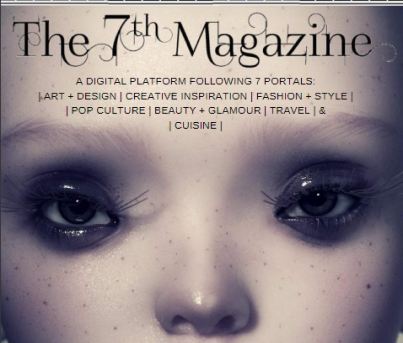 The 7th Magazine, 7 portals to inspire
Read blog