25-10-2013
Celebrating artists printing with Peecho on International Artist Day
Art should be enjoyed any day of the year, but it's always nice to take some time to honor the contributions that artists have made to humanity throughout history. To celebrate artists, Canadian painter Chris MacClure started International Artist Day, held every October 25th. We're joining in the celebrations by paying tribute to artists offering prints through Peecho's print on demand services. Our artists come from many countries and creative backgrounds. Several of them specialize in painting, others in photography and illustration. These are some of their stories:
Eva Navarro
Eva Navarro is an award-winning Spanish painter. Her work has been shown in exhibitions across Europe and the U.S. Eva's artwork is inspired by anonymity and urban life. Her dreamy urban portraits feature lonely, though often playful, characters in pools of bright color. Eva started using our Simple Print Button earlier this year to offer a book of her paintings via print on demand. Today, we're proud to announce that she's also using our Simple Print Service to sell a selection of reproductions on print.evanarro.com! Eva's prints can be purchased with a 10% discount from today until Friday November 1st using coupon code: evanavarro. 
Artmajeur
Artmajeur features work from over 60,000 artists. The site's collection consists of almost 2 million artworks, ranging from photographs and paintings to sculptures and digital art. Artmajeur has empowered thousands of artists in more than 230 countries to sell their work online. Browse their gallery and order your favorite prints with a 10% discount for a week, starting today. Simply insert the coupon code artmajeur into the checkout. There are over 20,000 pieces to choose from! 
ARTWORKMEN
ARTWORKMEN is an online gallery that offers exclusive lowbrow and urban art prints. The site is an initiative of Roughmen, an Amsterdam-based creative agency that represents creative professionals in the advertising industry. ARTWORKMEN is currently home to the works of 17 artists, most of whom specialize in illustration and graphic design. Many of them are known internationally. Illustrator Jasper Schreurs, for instance, recently made a series of amazing book covers for the award-winning science-fiction author Hugh Howey. You can purchase ARTWORKMEN prints this week with a 10% discount using the following coupon code: artworkmen – the offer is valid until Friday November 1st!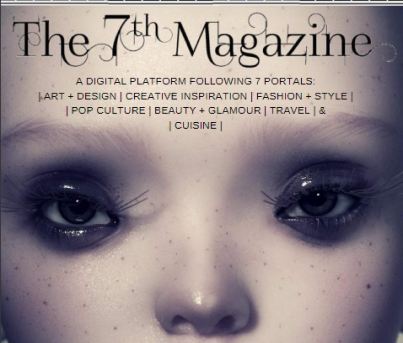 The 7th Magazine, 7 portals to inspire
Read blog