15-01-2013
Bureau Spoorbouwmeester prints its Spoorbeeld publications with Peecho
Spoorbeeld publications (image courtesy of Bureau Spoorbouwmeester)Every year, the Dutch railway system facilitates 348 million journeys. People commute to work, book holidays and find their way across the landscape using this service. All the while, a group of policy makers, architects and designers is working on the sidelines to ensure that travelers have an optimal experience. These experts deliver a publication that provides the necessary design guidelines to keep the railway system up and running. The publication is called Spoorbeeld and its development is managed and carried out by the independent organization Bureau Spoorbouwmeester. Last year, Bureau Spoorbouwmeester started publishing Spoorbeeld and its related publications online and decided to work with Peecho to offer printed copies on demand. In this post, we'll be talking to Jos van den Hende who will share some more interesting details about Spoorbeeld and its new publishing strategy.What is Spoorbeeld?
Spoorbeeld is the design policy of the Dutch railway sector. Prepared from the perspective of the traveler and the environment, it presents the general, supporting visions, frameworks and design principles relating to the perception of and interaction with the railway.
You recently decided to digitize a whole range of Spoorbeeld publications. What inspired you to take this decision?
The Spoorbeeld, as a policy, has always been available for the public. However, we wanted to make sure that people had access to the latest version at all times and digital publishing makes this easy. Our new website also contains the frameworks and design principles of the Spoorbeeld, as well as essays with background information. Aside from fulfilling a practical and informative role, this web archive aims to inspire people and enrich their vision of the Spoorbeeld.
The print on demand processWhy did you decide to offer printed versions for some of these documents and what made you choose Peecho?
The publications provide excellent background information about the policy and are interesting to read. Although we're certain that many people will read these documents online, the material is also engaging enough to be read in print. Most publications contain beautiful pictures and appealing diagrams – things that project managers, architects and city dwellers alike would appreciate. Besides, they tell stories that will not age.
We chose Peecho because the Simple Print Button fits our publishing strategy as a whole. We wanted to focus on developing our new web identity and publishing more digital content. In addition, we think it's important to offer people the option of ordering documents in print. Being able to offer shipping services at cost price was also an advantage. Peecho allows us to do this without having to worry about tracking orders, handling customer service or paying for excess stock – print on demand works better for everyone, including the environment.
Check out the Spoorbeeld publications archive and see the print button in action!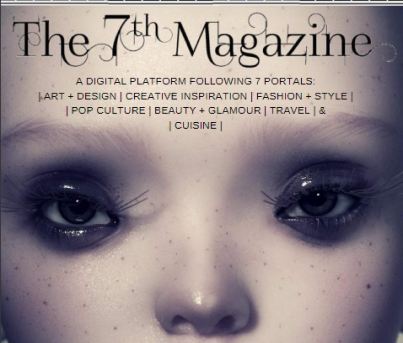 The 7th Magazine, 7 portals to inspire
Read blog