14-05-2013
Award-winning Spanish artist Eva Navarro talks about her art
Every so often, we see a person on the street for a fleeting moment and wonder what it would be like to live like them, be like them. Eva Navarro is an award-winning artist whose work is fueled by these moments. In her urban portraits, Eva halts the rush of city life to reveal an inner world of beauty, absorption and quiet turmoil. Eva recently started using our Simple Print Button to offer a book about her paintings through print on demand and we couldn't miss the opportunity to chat with her about her work. Here's what she shared:Eva, can you tell us a bit about yourself and how you started your career as an artist?
Although I studied Fine Arts, I had not planned to devote myself to painting, it was something that happened almost by chance. I started working in graphic design and set up my own company. Painting used to be my hobby. Then, a colleague saw my paintings and offered me a chance to hold an exhibition. I put together works for what would be the first of many.
I continued to divide my time between painting and graphic design for a while, but my spare time soon proved not to be enough. So, I decided to stop working as a designer and see if I could survive only with painting. I've never regretted my decision. I love what I do and that's a key element in any career. I still find a challenge in creating new works, and in looking for new ways to express my ideas.
Can you tell us about your creative process and the themes you explore in your work?
I express my thoughts through the figures of the anonymous people that cross their paths with mine on the street, so I normally carry a camera with me and keep my eyes wide open whenever I go for a walk anywhere. I travel a lot and always dedicate time to "people hunting" and taking pictures. People are different in every place, and I am inspired by the way they look, the way they dress, how they move.
These anonymous people catch my attention for a few seconds. I follow them and photograph them without their knowledge, always from behind or from above, trying not to get caught. I seek the expressiveness of their bodies, their positions, their hands. They are the most natural models you can find because they don't know they are posing! When I translate them into my paintings, I isolate them from all the rest. They come to occupy naked colourful landscapes and they help me express concerns that I share with most of humanity: the passing of time, the meaning of life, feelings of loneliness, concerns, fear, love…
Tell us about your Peecho book, is this the first time you create a book about your work?
Yeah, I've had many exhibition catalogs but this is the first time that I create a book about my work. The book is an on-going project that started a few years ago. I wanted to compile some of my recent works and present them in a book, divided into the topics that I paint.
Although I printed earlier versions with other companies, I didn't think the printing quality was good enough to offer the book for sale. The version Peecho has printed has the quality that I was looking for so I am very excited!
Why were you interested in using print on demand for your book?
Print on demand is a very useful promotional tool for myself, a sales tool for galleries and a source of information for the art buyer and collector. The fact that I can update my book whenever I want to and print only the number of books that I need is fantastic.
My book will be sold through my website and I am planning to offer some of my paintings through print on demand in the near future as well.
You've toured the world for shows and art fairs and have won many prices, what advice would you give to aspiring artists that want to achieve the same?
I would advise aspiring artists to work hard and to not limit themselves physically or mentally. Travel, get out of your comfort zone, move around, learn, visit art galleries and fairs, absorb what you see and search for your personal style, for your own voice. When you think you're ready, make your own virtual storefront and invest some of your time in self-promotion and marketing your work.
Visit Eva's website to learn more or like her page on Facebook to get regular updates.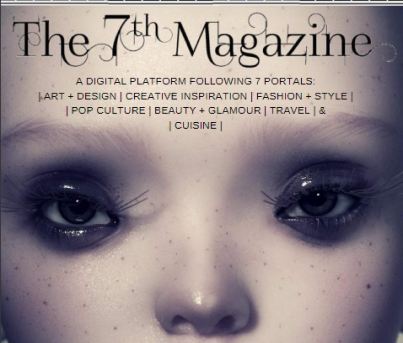 The 7th Magazine, 7 portals to inspire
Read blog