15-12-2015
An interview with Isis, the editor-in-chief of The Isis Nicole Magazine
''It's really a dream come true to have a printed magazine that represents who we are from how it looks to how it feels!''
Celebrating the gifts and messages of contemporary artists worldwide. That's what The Isis Nicole Magazine (IN) is about. Established in 2013, IN Mag debuts creators at the forefront of youth culture making positive, exciting, and beautiful changes in the worlds of fashion, music, and art. Editor-in-chief Isis made some time for us so we could ask her how she started the magazine and why using Peecho is the perfect solution for her.
Isis is the founder / editor- in-chief of The Isis Nicole Magazine. Isis grew up in southern Ohio and then moved to Chicago after high school to study journalism at Columbia College Chicago. ''I work on IN together with my friends Hannah Black, our creative director and Hannah Siegfried, our Lead Photographer. We work our butts off to live out our dreams. We're small town girls making our way in a big city!''
The Isis Nicole Magazine came out in 2013. When it first started, Isis found a bunch of disposable cameras for cheap and sent them out to contributors. ''The idea was the artists would make a day-in-the-life-of or photo diary,'' Isis says. ''I had to work with what I had to make it happen. When the second issue came out, photographers from Tumblr started to submit to the magazine, and today, we're up to our fourth issue which is curated by Hannah Black and I. We collaborate with fashion photographers from around the world which has been the most exciting experience for me thus far. From fruition to finish, I'm so proud of our magazine! The response to our project has been amazing and I'm looking forward to our future. I feel really good about it! On and upward!''
The Isis Nicole Magazine is about celebrating artists at the forefront of youth culture making exciting and beautiful changes in the world. Isis tends to create a conversation based around themes in her life. She likes to talk about universal experiences like being in love, surges of inspiration, earning independence etc. This allows the artist and herself to be as honest and vulnerable as possible, and it's a moment that lives on forever in print, online, and what she is learning to get used to, in the memories of her readers. Isis gets her inspiration from a mix of things: ''I know I get my best ideas when I'm in the in-between on commute. Riding a bus back to Ohio, looking out the window to see cornfields and windmills with my iPod playing, that charges me up. Flipping through older fashion magazines, older interviews, meeting new people online and off, all that stuff inspires me.''
Using Peecho is a convenient solution for IN because the magazine needs to be printed in special sizes and shipped internationally. ''I feel that the Peecho team genuinely cares about our product, I love the opportunity to ship internationally, I love the size, and I love the discounts! It's really a dream come true to have a magazine that represents who we are from how it looks to how it feels. The colours pop, the paper feels inviting, and the size is travel friendly. I'm really happy to grow our business with the support of Peecho. A lot of our customers are based in Europe between ages 18-30. Making use of Peecho's print button has been the distribution solution of our dreams.''
Did Isis' story make you curious about Peecho? Read more about the possibilities to sell your creative work via print on demand on our website.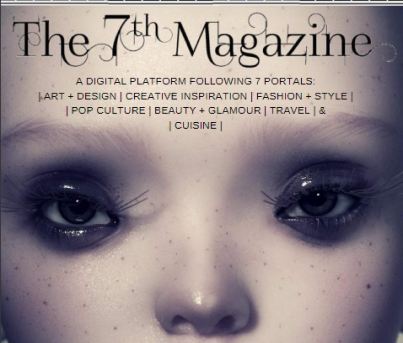 The 7th Magazine, 7 portals to inspire
Read blog