17-02-2016
5 Photography Trends to keep an eye on in 2016
Most of the time those moments come unexpected: that rainbow in a clear blue sky, your favorite city by night lit by a thousand sparkling lights or an old couple walking hand in hand through a snowy park. On these moments you wish you brought your good camera with you to record them. Fortunately, technology is improving and most smartphones have very professional cameras nowadays, too. That means there is always a possibility to make the most beautiful pictures. People are taking more photographs than ever and the photography trends change before you know it. What are this year's trends?1. Food storytellingThe western world is obsessed with finding the healthiest foods on the planet. In this search, thousands of pictures of avocados, quinoa dishes and wheatgrass shakes are disseminated over the internet. To stand out, photographers and bloggers pay more and more attention to the story behind the food. They create certain atmospheres, animated gifs and overhead shots of food scenes to support the overall theme of storytelling. People and attributes placed in a certain place in the picture will make you feel like you are in a different world.
2. Mobile photography
Apps, filters, social media and smartphones are things you probably use already. Mobile photography is the most practiced kind of photography at this moment, and it will become even more. Nowadays, smartphone cameras come close to professional cameras and people even wrote books about the craft of mobile photography. It brings professionals and amateurs together and it enables us to send pictures to the other side of the world, a second after they were made. This photography trend is part of the globalization and being connected to the world anyplace, anywhere, anytime.
3. The humanization of animalsPeople talk to their pets, sleep with them in the same bed and even create special clothing lines for them. The humanization of animals is not a new thing. The main characters of the oldest fairy tales are animals with human feelings and problems. This trend now also reached photography. A cat with a tie and glasses on, a dog mowing a lawn and fish having dinner over candlelight. Anything goes in this trend and these kind of pictures get a lot of likes and shares on social media.4. Black and whiteIt might be predictable, but black and white is still a trend. Black and white is classic and always will be. Not only in photography, but black and white is also coming up in advertising and design. Sometimes, colors can be distracting. The lack of colors emphasizes the message of the image. Black and white allows you to focus on shapes, light and shadow and has a classy and refined feel.
5. 360° Panorama
Many cameras and phones have a panorama mode that allow you to capture images with horizontally elongated fields of view. 360° Panorama photography goes even further by including everything in the scene. When you view a 360° Panorama photo, you are able to look at any direction: side to side or up and down. If you want to practice this type of photography, you can buy a fisheye lens: a special type of ultra wide-angle lens.Once you have made the most wonderful picture of your hamster working out in a track suit, someone else might also want to have it. It's now possible to allow others to buy your photographs printed on demand as wall decoration without any cost. Do you want to know more? Contact us!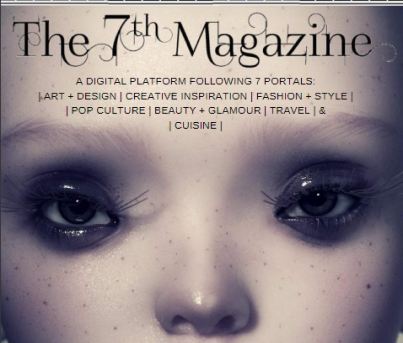 The 7th Magazine, 7 portals to inspire
Read blog