23-06-2015
1001 lichtjes: the art of saying goodbye
A ring with the ashes of your deceased husband in it or a special song for your grandmother who is no longer with you. Everyday, lots of artists, designers, caterers are busy creating beautiful, inspiring products for those who have lost loved ones. These people are often looking for special ways to honor or remember them. 1001 lichtjes (1001 lights) brings them together: When you find special products on their website that appeal to you, you can contact the creators.  
1001 lichtjes fair
On the 7th of June, Liesbeth (the founder of the platform 1001 lichtjes) and Amber (project manager) organized the 1001 lichtjes fair. This was a one-day event on an unique location in Utrecht in the Netherlands with the theme ''creativity.'' By doing activities, visitors could find out which memorial products suit them best. People were there to be surprised, to share memories, to find solace in beautiful stories and to get to know the different crafts of the creators. The goal of the fair was to inform the visitors with temporary products and services in the field of farewell, consolation and remembrance. Liesbeth and Amber would be very happy if 1001 lichtjes could make it easier to talk about death and memories.
Magazine
For this special day, Liesbeth and Amber wanted to publish a magazine about the origins of the fair. And of course, via Peecho they could print the amount of magazines they wanted in excellent quality. The magazine turned out beautifully. They succeeded in giving the reader the special feeling of cherish and inspiration by choosing the right combination of text, photos and illustrations.
Stories about saying goodbye
In the magazine, creators tell their story: what made them start creating products with  the theme of saying goodbye? Blend Music for example, is a music duo that plays at funerals. The duo -Michaël and Lisanne-  thinks music can be a beautiful addition in the process of saying goodbye to a loved one. Music has the power to evoke memories when words fail to describe them. They also compose songs on request based on  your stories and memories about that special person. Another story that is featured in the magazine is RITE de passage. When Jurianne lost one of her best friends because of the tsunami in 2004, she found out that she found peace in a special ritual her son made up. They wrote a message on little boats made out of folded paper. She felt enlightened when they let the little boats float away on a small river in France. That's when she started designing little boats with a candle inside: for everyone that wants to say goodbye to a loved one by means of a ritual. In the magazine, you can also read stories about products that are special for the bereaved. Yvonne and Michel got married three days before Michel died. A goldsmith used their wedding rings and Michel's Ashes to create a new ring for Yvonne. She can wear the ring everyday and Michel will always be close to her in a special way.If you want to know more about 1001 lichtjes, you can visit http://www.1001lichtjes.nl/. Do you want to publish a magazine or book yourself and need inspiration or information about our print options? Don't hesitate to contact us by chat on your dashboard or by email: kenneth@peecho.com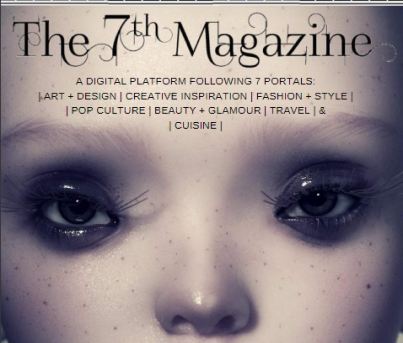 The 7th Magazine, 7 portals to inspire
Read blog